THE ITALIAN CULTURAL HERITAGE FOUNDATION OF SANTA BARBARA and the ITALIAN-AMERICAN BOOT CLUB OF SANTA BARBARA
are proud to present the recital of 
JAN DE KLOE
Guitar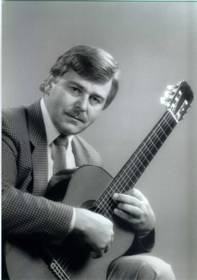 Biography
Jan de Kloe adopted Belgium as his home country after a youth in The Netherlands. He studied at Conservatoires of Brussels and Liège and performed as a soloist in various European countries, Canada and the USA. Additional guitar technique and interpretation studies followed in summer courses with Julian Bream, Turibio Santos and Robert Horna.
Next to playing the guitar he spends time in music research, music engraving, editing and publishing. He is a regular contributor to guitar magazines and published about Juan Bermudo, Frank Martin, François de Fossa, Agustín Barrios, Oscar Esplá, and Isaac Albéniz. His editions contain Mazurkas by Chopin, the violin concerto and songs by Fernando Sor, duets by Haydn/de Fossa and a Sonata by Weiss.
For the Guitar Foundation of America, Jan lectured on medical issues for musicians (New Orleans), newly discovered works by De Fossa (Buffalo), he gave a workshop on cross-string ornamentation (Oberlin), lectured on Symbolism in the Bach Chaconne (Columbus, GA) and presented 'Oscar Esplá and the guitar' (Los Angeles).
Jan has written several books, the most recent being the biography 'Boris Perott – A life with the guitar' about the Russian/British guitarist (1882-1958)
He twice received the American Music Publishers Association's "Paul Revere" Award for Graphic Excellence in Music Engraving.
A RECEPTION follows the RECITAL
SATURDAY, JANUARY 12th, 2013
TIME: 3:00 to 5:00pm
LA CUMBRE COUNTRY CLUB
4015 Via Laguna, Santa Barbara, CA 93110
Cost of Admission: $10
RESERVATIONS ARE REQUIRED AND PAYMENTS MUST BE SENT IN WITH THE RESERVATIONS
DEADLINE FOR RESERVATIONS:  WEDNESDAY, JANUARY 9,2013
For check payments, please click HERE for a downloadable RSVP form
For credit card payments, please click on yellow button and follow directions: